My Fictional World Meme
I've decided to take part in The Reading Residence's Book meme My Fictional World. Here are my answers to the questions – click on the badge to find out more!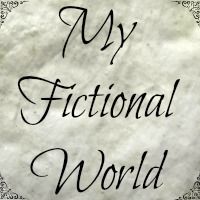 What were your favourite reads from your childhood?
I loved Enid Blyton – The Secret Seven and The Faraway Tree series. These were so fantastical and magical and were so exciting to read. I also loved some science fiction with Redwall and also a book series about a grandfather and daughter who were finding out about atoms and neutrons but I can't remember the name! I loved all Roald Dahl books. I was a big book worm! (And still am).
There are always those books that defined your teen reads and stay with you – what were yours?
As a young teen I loved Thomas Hardy and a lot of classics. The Mayor of Casterbridge and Far From The Massing Crowd being two of my favourites. Tess of The D'Urbervilles is also an amazing book and one which I found so sad and that has stayed with me. I also fell in love with The Woman in White by Wilkie Collins which I found such an amazing book and totally compelling. In my late teens I loved Wuthering Heights, The Catcher in the Rye by JD Salinger and Cider with Rosie by Laurie Lee.
Who are your favourite authors currently?
Oh so many! I don't tend to read a lot of one author but a few favourites are Lionel Shriver, Ken Follett, Kate Mosse, Sebastian Faulks, Charles Dickens
Which 3 genres do you gravitate towards most often?
I'd say History or Historical Fiction, Crime/Thriller and Classics
Can you choose your top titles from each of those genres?
History:  The Pillars of The Earth by Ken Follett, Rose Under Fire by Elizabeth Wein, Songbird by Sebastian Faulks
Crime/Thriller: Gone Girl by Gillian Flynn, We Need To Talk About Kevin by Lionel Shriver, Room by Emma Donoghue, Rebecca by Daphne Du Maurier
Classics: The Great Gatsby by F. Scott Fitzgerald, Great Expectations Charles Dickens and To Kill A Mockingbird by Harper Lee
And your least favourite genres?
I am afraid I really don't like 'chick lit' or romance very much unless it is a classic! I have read sci-fi books before and do enjoy a few but I wouldn't say it's my go-to genre!

Of the many, many fictional and fantastical worlds, where would you most like to visit?
Oh that's a difficult question. Maybe I'd like to go back to Dickens' Victorian London or maybe visit Gatsby's party
House!
Everyone loves a villain, right?! Who would make your favourites list?
Heathcliff from Wuthering Heights without a doubt! Also Alec D'Urberville is a terrible villain in Tess and Kevin from We Need To Talk About Kevin is truly chilling.
Share the books that have had you sobbing?
The Time Travellers Wife and One Day both had me in tears!
And let's end on a high! Which books leave a smile on your face, and maybe elicit a few laughs?!
The book I just read had me chuckling –  The Hundred Year Old Man Who Jumped Out Of A Window And Disappeared by Jonas Johansson.
I really enjoyed answering these questions and I'm looking forward to reading everyone's! I can't wait to add a few new books to my reading list.
---
---