Little Bud – Prose For Thought
Apologies for last week's absence with Prose for Thought; I had a bit of a brain block (I think tiredness was catching up with me!) but here I am, back again. This week I have been doing some lovely things with the bubba, and she seems to be learning so much, that this is the inspiration for the poem.
Little Bud
You're growing so fast
you look different every day
like a little bud
you grow silently so I don't notice.
Blossoming, blooming
you start to reach out
touching things around you
how did you learn to do that?
Giggling, gurgling, shrieking
they say sound can help you grow
you look all around you, soak up the sun
information like a feed to you.
You wriggle, you squirm,
trying to get higher, to reach the sky
only you know what way you want to go
Little Bud, you're starting to spread your leaves
and when you smile, it's like a flower has bloomed.
Emily Tealady 2013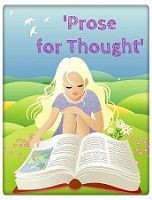 ---
---