Heinz Baby Breakfast Review
We have been reviewing some lovely Heinz Baby Breakfast products which were sent to us.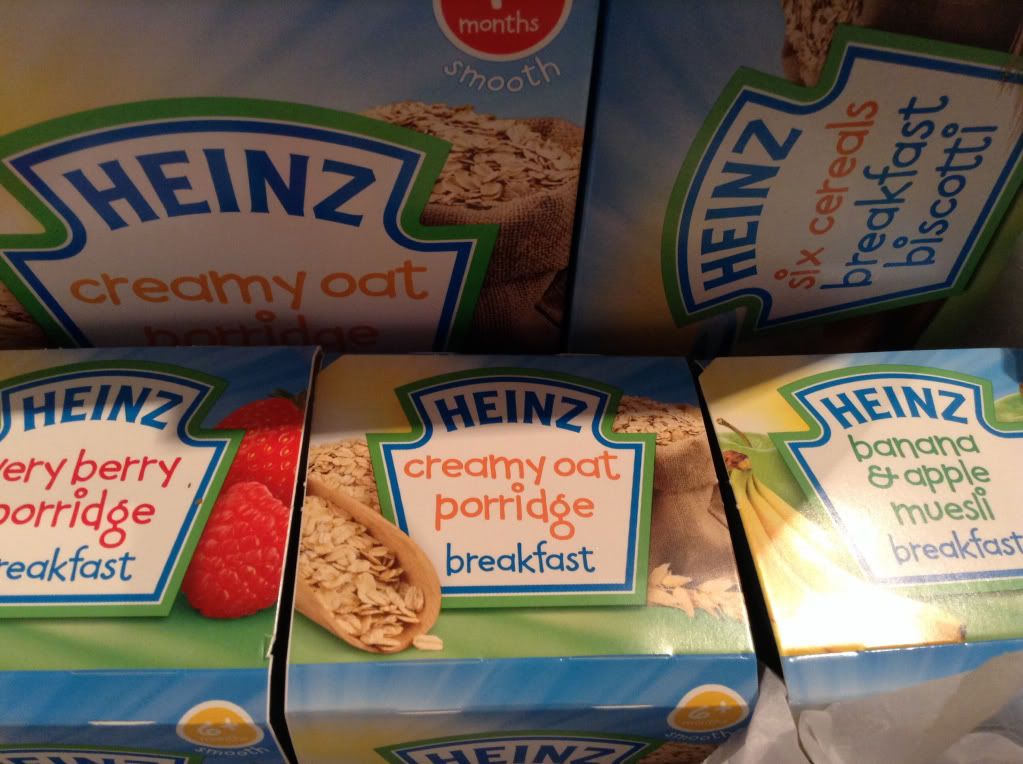 We have been sent:
Very Berry Porridge breakfast pot x 2
Banana and Apple Muesli breakfast pot x 2
Creamy Oat Porridge breakfast pot x 2
Box of Creamy Oats porridge

cereal x 1

6 cereals breakfast biscotti x 1
All the products in the range are fortified with nutrients such as iron, calcium and vitamin D. For me, bringing up a vegetarian baby (and not being veggie myself), having products with additional nutrients such as Iron is a bonus. They also contribute towards your baby's 5-a-day. I can sometimes worry whether Bubs gets her 5 -a-day, especially on a days when we are in a rush, and rely on more convenience type food. As a veggie, she generally gets more than her 5 a day, but it doesn't stop me worrying about it!
I liked the handy pots with lids, and it was good that they could be heated up quickly in the microwave. (I also re-used the pots after use, great for freezing little portions of food!). One thing I would say is that the pots were in packs of two, but the cardboard wasn't really keeping the pots together, so perhaps they need to be secured a bit better as a pack.
Bubs really enjoyed the breakfast biscuits. She has had Heinz biscotti biscuits before, and these are very similar. I was a little uneasy at the thought of her eating biscuits for breakfast, I gave her one at the end of her breakfast, which she seemed to enjoy, and also used them as an 'elevenses' snack.
Bubs enjoyed the flavoured porridge, and although it was a little runny for her (she likes to feed herself food, and runny food and spoons don't always agree with her!) she enjoyed dipping her fingers in, and had a few guided spoonfuls as well. I was a little concerned at the sugar content, which does appear high, but I think it is the sugar in the fruit added to the porridge, rather than added sugar.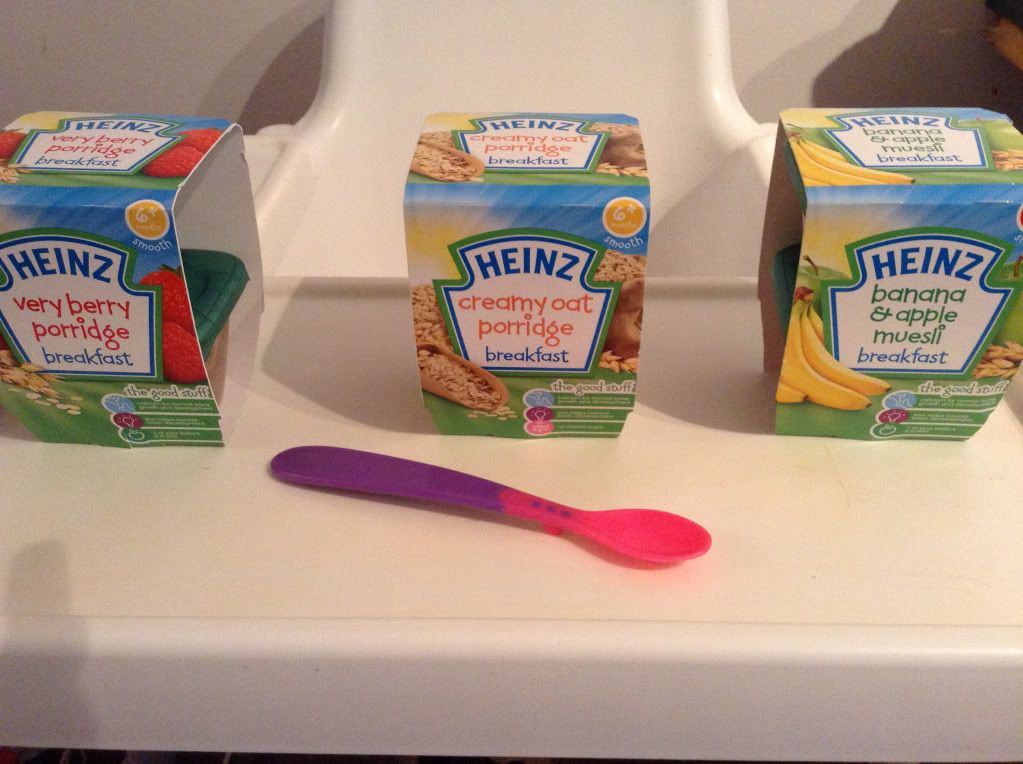 Bubs wasn't so keen on the plain porridge, she has had other brands as well, I just think that it is one food she isn't so keen on.
Having all these options in pre-bought breakfast products is appealing,  it is nice to have quite a large range. I worry sometimes that I get stuck in a rut with breakfast, so being able to try all these flavours and products really helped to spice up breakfast and give us a bit of variety. Sometimes it is all too easy to reach for the old favorites such as toast, I think making the effort to change things up and let your baby try different flavours and textures can be wearing at times, having a few pots of these in the cupboard would be ideal for times like those.
I think these breakfast pots are useful for when you are on the go, travelling, need a quick breakfast or for those days when you are running out of inspiration. In moderation, I think that these products have their use. As Bubs is a little older now, these may work better for those babies just starting to wean and try new flavours and textures. However, she still enjoyed eating the flavoured pots, and the biscuits we will definitely buy in the future.
I was sent a package of Heinz Baby Breakfast Range (detailed above) in order to undertake this review. This review is my honest and unbiased opinion of the product.
---
---