Going To A Group For the First Time: Baby Massage
As you may be aware, I was rather nervous about going to a group because I am a bit quiet and get nervous talking to new people (you can read my post about this here).
I signed up to Baby Massage one day, one of the first times I had been to the Health Visitor Clinic at the children's centre, when I had to wait over an hour to actually get Bubs Weighed. Whilst waiting, one of the ladies that work at the Centre was talking to everyone about the Centre, what activities they do, the drop in, support groups etc and got us all to fill in forms. She also then casually roped me into signing up to this class. Although I was terrified, I was relieved there was a 4 month waiting list as I thought I could forget about it, and decide whether or not to actually go at a later time, and it got the woman off my back and onto some other poor unsuspecting new mother.
Anyway, the call came and it was our turn to go to the Baby Massage. As usual I got up 2 hours before the start of the group to get ready, and was still 10 minutes late. A great start, I thought, running down the street in the sunshine. Sweaty, out of breath, and now a bit red in the face, I entered the room at the Children's Centre. I hate being late, and I hate being late whilst looking like an out of breath hippo whilst New People look at me and JUDGE me. So anyway what a first impression!
I was lucky in that the first session, initially we had to fill in yet another form, and so I had time to settle, catch my breath and go down a few shades of red. The room was actually very calming and relaxing, with calming music, candles lit up in the corner, and the floor was mats covered in fleecy blankets with cushions spread over the floor. There were three other Mums there with their babies, filling in their forms. All looked roughly the same age.
I filled in my forms, and whilst I did Bubs lay on the mats, kicking her legs and chatting away to herself. She seemed pretty chilled out.
To start with, as I was busy filling in forms, I didn't really get to talk to anyone. I had also managed to pick the spot nearest the teacher, and furthest away from everyone else (I always manage to do this!). A few others were chatting, asking general questions to each other, and starting to get to know each other. I felt a dip in my stomach, yet again I would be the odd one out, no-one would talk to me, I'd be the invisible person in the room. Heart palpitations fluttering away, I tried to hide my anxieties and just smiled and chatted away to Bubs instead. A few other late comers arrived after me, and so I thought I maybe had a chance.
Once we had all filled in the forms, the session began. The lady leading the session was lovely. She talked through the massage, that it was a mixture of massage, reflexology, yoga and other things like that which I can't actually remember now. It is also about the nurture, the bond, as well as the massage. We were all given a bottle of organic sunflower oil to use ("if its good enough for the inside, it's good enough for the outside!") and told that to start the massage, we first had to ask permission from our babies if they wanted a massage, as it is all about the bonding and nurturing process. So there we sat, 6 adults, asking 6 under 4-month-olds, whether they wanted a massage. Surprisingly, no-one seemed to object, and so we began. We had to initially pour the oil on our hands, and rub it into our palms near our babies ears, to make a 'swooshing' noise, so that the baby knows this is the start of the massage. We then started to massage. We focussed on the legs and feet as the lady told us these are the body parts babies are most used to being handled and so easiest to start with. The massage strokes were quite easy to follow, and the lady told us it doesn't matter if you don't do it exactly right. The oil was not too yucky in my hands, and it was very peaceful, calming and relaxing to do. We all sat there, babies gurgling and chatting away, whilst we massaged their legs, and feet, and toes. Bubs seemed relaxed, she kept looking at the teacher, and chatting away to her. But she let me do the massage, first on one leg and foot, and the other. The massage was complete.
Then, it was time for tea. The teacher went away and made us all a cuppa, which I was rather glad of. Then I realised; I had to chat to people now; there was no escape, this was the next part of the session apparently. Others were chatting away, and I just sat there with Bubs in my arms, chatting away to her. I didn't know how to jump in and start talking. I thought I'd end up not talking at all. But in the end, I managed to glance at the lady next to me and her daughter, and stutter/bark "Ssssshe has a pppretty dress!" at her. I thought I compliment was a safe comment to say, I'm not sure I even liked the dress, but it was a starting point. Anyway, the women didn't seem to notice my anxiety and just responded to my comment with a 'Thanks, we have so many clothes, she can hardly wear them all!" and then it seemed I had to reply. This seemed to be a conversation. And it continued. We chatted about clothes, how big the babies were, the weather, feeding. It didn't seem too awkward, and I think I didn't say anything stupid. relief was flooding over me. As I was chatting, drinking my tea, Bubs started to fall asleep; massage seems to get her sleepy which is a great thing! I put her in the pram and got ready to go. I didn't talk too much to the other ladies there, and there was a young girl there with her Mum, who was even quieter than me, whom I think I should talk to next time. Yes. Next time. It's a 6 week course, so if I have managed this in the first session, it looks positive for the next 5, doesn't it?
Going to this session really helped me alleviate a few fears, and although I am terribly shy I did manage to start a conversation. Like a lot of people have told me, having the baby to talk about and have in common with everyone was very useful. It even made me think about going to the music and movement session, which I think Bubs would love. I felt so much better for getting out of the house, doing something structured, doing something new, I felt a bit like I was at work again (but much more fun of course) in that I have to meet new people and chat to them all the time at work, so why I can't do it out of work is beyond me, but I definitely felt more confident at the end of the session.
So here it goes, Another 5 weeks and who knows what will happen?!
I am linking this post up with The Oliver's Madhouse Magic Moments, as this was a magic moment for me, I overcame my anxieties, I went to a group, and you know it was OK! And I felt so much better for doing it!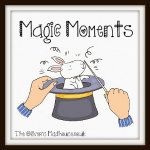 ---
---