British Red Cross Baby and Child First Aid App Review
I was very pleased to be asked by Mumsnet undertake a review of the British Red Cross First Aid app. The app is free to download, and covers all basic first aid such as choking, anaphylaxis and bleeding. It is split into sections, and each section has a very helpful video going through the basics of the first aid for that situation. The app is easy to navigate, and you can find what you are looking for with no difficulty. It is primarily developed for learning about first aid but does contain an emergency section.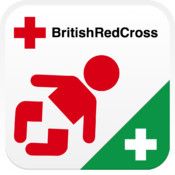 I am keen to learn first aid for children, as having Bubs, it not only make you think of this more, but with her now 10 months old and almost walking, she has the potential to get into quite a few scrapes and it is reassuring to know that an app like this is available to consult, look at and digest information from. First Aid is not something that springs to mind when you have a baby, yet now she is that bit older, it is easy to get panicked and overwhelmed by the fear that something could happen to her. An App like this can allay some of these fears, and help provide the correct information.
When you open the app, a Quick Tip pops up, which I thought was a good touch. It's something quick and easy to remember – such as 'To help a child with a fever, reduce their temperature'.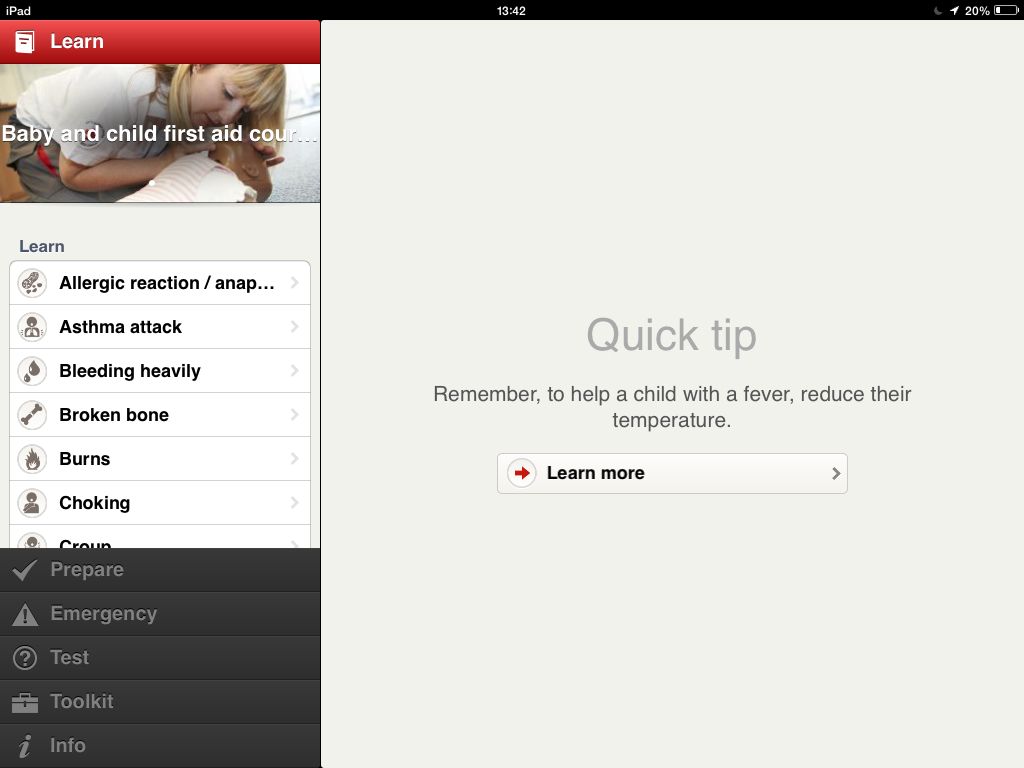 The app has 6 different sections – Learn, Prepare, Emergency, Test, Tookit and Info.
The Learn section is where you will find different topics – such as asthma attack, burns, head injury, Nosebleed. Click on one of these and information about that topic is on there – video as well as written information with diagrams, and Q&A's – these dispel wrong information (such as don't tilt the head backwards when treating a nosebleed) or gives you information on what to do next. I found the videos to be very interesting, detailed and yet simple to follow. They are a little blurry on my ipad mini, but only slightly, and you can still see everything well. The voiceover is calm, and slowly tells you what to do. For something minor, I would think you could work through what to do by using the video if you needed to – such as a nosebleed. The videos are quick and to the point – which I think is good, and like I say, if you needed something to refer to, you could use this if you had to. The written information is clear, uncomplicated and easy to read. The diagrams also help to explain what to do/what is happening.
The Prepare section is all about preventing incidents. It covers information such as eating ('always supervise babies when eating' for example), electricity and hot weather. It also signposts you onto other information sources such as the NHS. This is great for me, as I am currently in the process of 'baby-proofing' my home, and getting as much information about what I can do now to prevent any incident, as well as practical advice on how to prevent it, is ideal.
The Emergency section covers all emergency situations such as heavy bleeding, allergic reactions and choking. It repeats some of the information within the 'Learn' section but this is a go-to section for when you want to find this information fast.
The Test section gives you quizzes to test your knowledge about all the information within the Learn section. This is great if like me you learn through trial and error – I learn through reading information, but also through getting answers wrong too – I go back and look them up. I think having a test section is great, it gives you confidence to know that you have the knowledge required to act in these incidents, and gives you something to aim for as well, by working through the sections, and completing them by undertaking the test.
The Tootlkit contains a Hospital finder – you enter a postcode and nearest hospitals come up – and you can also add a child record – information that could be useful in an emergency about your children. As we all seem to have a smart phone or tablet with us, having this completed makes sense to me – health professionals can access it quickly, and find out really important info such as medication and allergies. In fact, I think it would be a great thing to have one completed for all the family! Being able to locate a hospital (A&E) quickly is also very useful. As my ipad is only wifi this would only work for me if I was connected, but I am now going to add this to my phone as well so I have this facility always available!
The Info section tells you all about the British Red Cross, how to make a donation or find out more information about the organisation. It also gives information on what to do if you are concerned about a child, and highlights the legal statement about the app – that it is up to date, but no substitute for medical advice. It interestingly also states that people have asked if they would be sued for incorrectly giving first aid – it states that if you are acting in good faith to help save someone's life there is little risk in being sued. They also want to hear if the app has helped in a first aid situation – if it has, then let them know.
On some topics, such as unconscious and breathing, the information is split into 'baby' and 'child' as you need to do different things dependent on age. I think this is again useful as it is clear that a baby is under 1 years old and a child is 1 years old to puberty. Sometimes you can get confused between baby and child so I thought that this was a good addition.
As the app is made by the British Red Cross it makes me feel reassured; you know the information will be accurate and up to date, and when looking for an app, I always try and use ones from familiar brands or associations – and the British Red Cross is renowned for its first aid training courses.
I really do think this is worth downloading – it's FREE! – and has such a lot of useful information. It could help you be prepared for any circumstance. I always think it's better to be prepared!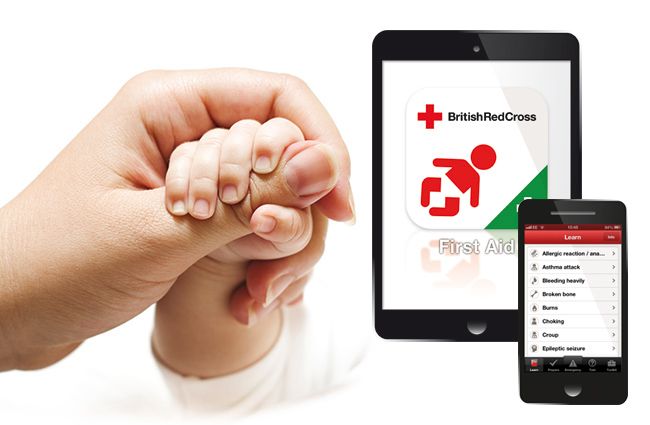 I am now going to download this app onto every device that I can – you never know when this information may be needed, and it is worth going over the information every so often – say, when you're waiting for a bus or have a few spare minutes – its quick and easy enough to do, and one day you may be grateful that you did. I have encouraged all my family and friends to try out this app as I think this information is so important to know.
The app is available free of charge on iTunes App Storefor iPhone and iPad or Google Play for Android
---
---