Moroccan Style Vegetables and Couscous
This is a recipe I threw together after thinking I had nothing in for dinner. As it transpired I had all the ingredients in my cupboard and the freezer. I have made this many times since and is now a firm favourite. This is a very easy meal and it is very tasty!
Ingredients:
Couscous (About 250g)
Vegetable Stock – about a pint
A dash of Olive Oil
knob of butter
Tin of Chickpeas 400g
Tin of Chopped Tomatoes (I used one with added Chilli and Pepper but you can use any)
vegetables of your choice, diced (or do what I do and use 1/2 Bag of Frozen Mediterranean Vegetables)
I also added these from the freezer but you can of course use fresh if you have them:
Handful of frozen peppers
Handful of frozen onions
Pinch of frozen garlic
Spices:
Paprika 1 tsp
Cumin half a tsp
Cinnamon a little dash
Salt and Pepper to taste
Method:
Couscous:
Basically, you put the couscous in the dish with the vegetable stock, cover with foil and Leave for 5 mins for all the water to soak up. I use 250g of couscous for a pint of stock.
Once all water has soaked up, uncover and mix the butter, olive oil, and black pepper (to your taste) into the couscous.
Cover with the foil again and pop into the oven.
It will need 15-20 mins, so put in the oven once you have made the sauce. I put it in the oven at 200. Preheat oven before you start making the sauce!
Sauce:
Get a saucepan and fry your onions and garlic. If they are frozen, you need to leave them a little bit longer as some water will come out, and you want to fry that off.
Next, add your spices – I added a pinch of cinnamon, teeny bit of cumin, and paprika – do it to your taste.
Leave for a minute for the spices to warm up a bit.
Add your frozen veg (peppers, then your mediterranean veg. Some of this veg in the packet can be huge, so you may need to try to chop them up a bit before adding).
Again, let the veg cook through, and leave to cook to get rid of a bit of the excess water.
Now, add your tin of tomatoes stir throughly, and then add your chickpeas.
Leave to cook for 15-20mins – put your couscous in the oven too.
Take the couscous out of the oven, use a fork to fluff it up. Spoon onto a plate or bowl, and then spoon on the sauce on top. Delish!
And there you have it, relatively quick, simple, and made up of things knocking around in your freezer! You could add any veg you have leftover into this dish.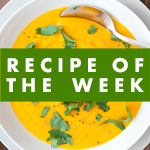 ---
---